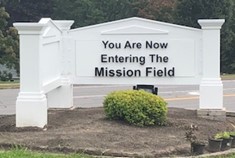 "Therefore, go and make disciples of all nations…"  -Matthew 28:19
Here at Perinton Presbyterian Church, we believe that mission is not simply a program the church does, but it is a part of who we are as a body of Christ in the world. This is achieved through the selection and distribution of the PPC monies through church and special offerings and church-sponsored fundraising projects. The financial support goes to those organizations (local, national, and international) dedicated to helping those in need, both physically and spiritually. Also, PPC provides church members the opportunity to participate in a wide variety of volunteer work inside the church, within our Rochester community, and beyond, with the giving of time and talent as important to missions as our financial support.
Below you will find information about our ongoing mission efforts, organizations we support, and ways you can be involved in this Great Commission. We hope you might consider joining us in what God is calling us to do.
The Great Commission
Click on area of interest for further information:
Volunteer Opportunities – (under construction)
Photo Gallery – (under construction)